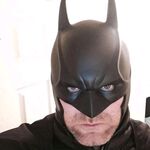 Terry McClowry - Best Man
Terry is the groom's older brother. A lifelong Batman devotee, Terry embodies his hero's strength, intellect and moral fiber, providing a young Matt with an ideal to strive for akin to a comic book superhero. A star athlete in intramural sports growing up, Terry's abilities on the gridiron earned him a full-ride scholarship at the University of Connecticut, where he was a stand-out at tight end for the Huskies. After graduation, he landed a position as a Sales Representative/ Surgical Consultant for Conmed Linvatec and has excelled in that field as well, earning his company's highest honor for his sales achievements. In his spare time he enjoys fighting crime as his masked alter ego in Gotham City, A.K.A. New Haven, Connecticut, where he resides with his wife, Margot, and their beloved dog, Roo.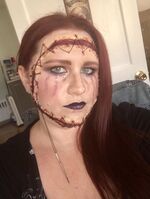 Katie Faulkner - Maid of Honor
Katie Faulkner is the bride's sister and Maid of Honor. She is incredibly creative. She can make you an Instagram-worthy cake, give you the world's most unique and detailed nail art, or transform you into another person with her jaw-dropping makeup skills. She is also a loving nanny to our Junior Bridesmaid, Abigail Flynn. She knows what she's doing with kids, as she has always been like a second- and more fun- mother to Patti. She always puts other people before herself. Though Katie is Patti's sister, she is also her closest friend, and her favorite person to hang out with. Patti will forever be grateful to her for introducing her to the coolest music, movies, and TV shows- that might have been totally inappropriate for a little girl, but made her a totally awesome little girl. There is no one better to binge watch Lord of The Rings or Stranger Things with. She has endured her little sister annoying her over the years like a champ. Patti is so thankful to have her and her priceless talents to help her to create an epic wedding that she'll never forget.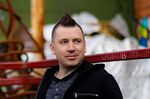 David Landau - Groomsman/Officiant
Matt met Dave at his first open mike at the famed Mark Ridley's Comedy Castle in 2004. While Matt stammered through a rambling nervous breakdown of a seven minute performance, the cool, calm and collected Dave was already on the fast track to becoming a touring professional comic, making his Comedy Central debut in 2007. He has since gone on to make several other television appearances, including but not limited to NBC's "Last Comic Standing," "This is Not Happening" on Comedy Central, and a trifecta of killer sets on AXS TV's "Gotham Comedy Live." Dave has used his capital in the industry to help many other comics get on the radar of booking agents and club owners, and over the years he and Matt grew to be very close friends. Together, they've traveled across the country, performing at multiple clubs, bars, colleges, and one nudist colony. He has done as much as he can to help Matt's career, and on one occasion made him laugh hard enough to cough up blood. Dave now splits his time between New York City, where he co-hosts a highly successful radio show and Michigan, where he resides with his wife, Tammy, his son, Wyatt, and their dogs, Maddie and Bosley.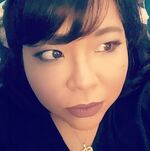 EJ Flynn - Matron of Honor
The Matron of Honor, EJ is Patti's cousin-in-law, but she's become more like a sister to the bride over the years. She is a marketing genius, and could, as they say, "sell ice to an Eskimo." She has taught Patti all she knows about "being dynamic," which means being assertive and successfully going after what you want. She is a loving wife to Patti's cousin John, and wonderful mother to our Junior Bridesmaid, Abigail Flynn. She also is a writer, an entrepreneur, and a workhorse, having written several books while running multiple small businesses in addition to teaching courses at her local college. Patti has learned so much from her about how to be a woman, and she teaches her new things all the time. She lights up a room and is the life of the party, no matter where she goes or who she's with. She is also a breast cancer survivor, and her love of life, perseverance through adversity, positive attitude, and bubbly energy invigorate and inspire all of us who have the honor of knowing her.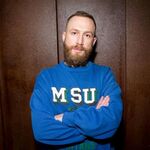 Nate Fridson - Groomsman
Nate and Matt have been close friends since Nate sprang onto the Detroit comedy scene in late 2005. A graduate of Matt's father's alma mater of Michigan State University where he received a degree in English, Nate has parlayed his mastery of the language into a career as a touring stand up comic; both as a headliner in his own right and as the feature act of choice for the famed Sklar Brothers. In 2014, Nate released his first album, "Best Guy So Far," on aspecialthing Records and will soon be recording a follow-up. As one of Matt's closest personal friends, Nate perhaps more than anyone had to suffer the most as he indulged the groom's rambling incoherent monologues about his inept and childlike pursuit of companionship. Nate lives in Bushwick, Brooklyn with his girlfriend and fellow comic, Alison Klemp.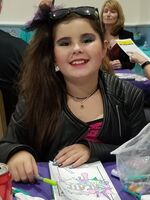 Abigail Flynn - Junior Bridesmaid
Abigail is the bride's cousin, and the greatest kid you will ever know. She is daughter to Patti's cousin John and the Matron of Honor EJ. She is always up for anything fun, and already at age 11 is a skilled singer, actress, and artist. She has appeared on television and on stage, but she is probably happiest at home snuggling with her pets while she's playing video games. Ever since she was little, she has always gone out of her way to make sure everybody around her felt included and happy, and she makes friends instantly with pretty much everybody she meets. She is Patti's favorite person in the world. She's also extremely insightful and mature for her age, and you can always turn to her for advice and support, even though she's only in the sixth grade. Creative, kind, talented, and outgoing, when Abby is around, you can't help but smile.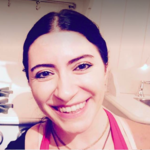 Ashley Bozian - Bridesmaid
Patti first met Ashley in pre-school, and ever since, they have been best friends. She is the world's coolest intellectual. Close to completing her doctorate in history, she teaches her students using a combination of her endless arsenal of world knowledge and South Park references. For years in elementary school, while the other kids were playing games at recess, Patti and Ashley were hanging out on the stairs or underneath a tree, discussing the true meaning of life and last night's Beavis and Butthead episode. Though her academic writings are admired by both her peers and mentors alike, Patti will always admire her for her ability to roast her elementary school teachers through Christmas carol parodies. She is impossibly resilient and strong. She got Patti through her hardest, and most awkward, moments growing up, and is always there for you when you need her. She would do anything for a friend; just don't try to engage her in a battle of wits, because you will lose.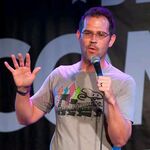 Adam Sokol - Groomsman
Matt and Adam became friends while enduring a long slog of open mike nights at Club Bart and other fine establishments in the Detroit area. Adam's Royal Oak apartment was the base of operations for many projects, including the Rifftrax of Superman IV: The Quest For Peace. Since moving to New York City, Adam has only grown as a writer and performer who has consistently added to his repertoire of brilliant stand up comedy material as well as Star Trek analysis and criticism. He is also a dedicated cyclist and recently completed his first 5k run. On a personal note, Matt, along with Nate and Pete, were groomsmen at Adam's wedding and now Matt is proud that Adam has accepted his invitation to return the favor. Adam resides in Astoria, Queens with his wife, Erica Deluca, and their cat, Elliott. The groom is forever grateful to all three of them for often permitting him to crash on their couch when visiting New York.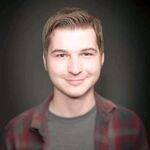 Brad Wenzel - Groomsman
Matt always wanted a little brother and never had one, but thanks to Brad, he has the next best thing. Fortunately for Brad, he has a wisdom beyond his years and had no need to learn from the groom's mistakes or general idiocy. Matt met Brad fresh out of high school in 2011, as he began his stand up career with a mastery of the joke-writing craft and a sly, understated delivery that would lead him to three appearances on Conan and an album on Jack White's Third Man Records by the time he was just old enough to rent a car. Matt has proudly watched Brad's achievements and remains a voice of positive reinforcement and a sounding board for much of Brad's new material, constantly reminding Brad that he was the first person to bring him on the road and therefore owes Matt everything he has or will ever have and he better not forget it. He resides in Hollywood with his girlfriend, Emily, and their cat, Noam.
Meghan Woolery - Bridesmaid
Meghan is sister of the groom. She is the quintessential "Supermom," as an ultra-successful lawyer and mom of two beautiful children, who can try a case and be home in time to make her family dinner- including dessert. Her schedule might make other people tired just looking at it, (and maybe even a bit insecure about what they were able to accomplish that day!) but her drive and ambition come solely from her love for her family and her desire to make the world a better place. Her work ethic comes from her father, who we know would be incredibly proud were he to see her now. She is a role model to everyone who knows her. Though she is technically Matt's younger sister, she is wise beyond her years, and Matt looks up to her and admires her greatly. Patti is so honored to be able to call her "sister", as Meghan is the wife, mom, and career-woman that she can only aspire to be one day.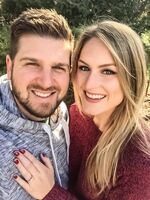 Mallory Wszola - Bridesmaid
Mallory is Matt's youngest sister, but she takes care of him as if he were her baby brother. Taking care of people is Mallory's M.O. Having recently graduated from nursing school, she has made it her profession. Mallory enriches the world every single day with her loving nature, her amazing sense of humor, and her drive to help people, especially those who need it the most. Her patients love her, but her family loves her more. Mallory is the rock they have all had to lean on when times got hard. Mallory has been a nurse for years before she made it official, taking care of their mom when she was diagnosed with Parkinson's, even while going to school and working. But even though she has had to sacrifice so much to take care of others, she has done it with strength, grace, and endless generosity of spirit. She never gives up on anyone, even when they give up on themselves. We are so thankful to Mallory for all she is and her selfless heart. Mallory has just recently gotten married herself, and we hope that means she will finally let someone take care of her for once!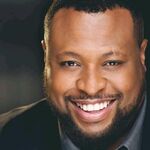 Ricarlo Flanagan - Groomsman
Ricarlo and Matt have been friends since 2009. A native of Cleveland, Ohio, Ricarlo began his stand up career in 2009 and he and Matt became fast friends while traveling the country on several long road trips to many gigs and festivals. Ric moved to Los Angeles in 2013 to further his career and his comedy and has since appeared on FuseTV's Uproarious and NBC'S Last Comic Standing, as well as appearing in acting roles on Carmichael Show, The Mick, and a recurring role on the Showtime hit series, Shameless. Ricarlo lives in Los Angeles and remains a close confidant and one man support system for Matt.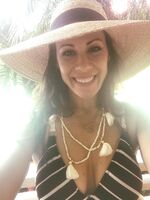 Margot Broom - Bridesmaid
Margot is Matt's sister-in-law, the beautiful wife of his brother Terry. Margot both practices and teaches yoga, and maybe that's why she seems to exude a sense of calm and joy everywhere she goes. Even in the most chaotic and rough times, Margot reminds us to breathe; to appreciate the little things; to live fully within life's little moments and be thankful for all we are blessed with. Margot herself has truly been a blessing that we're grateful for. She has been the kindest and most loving wife to Terry that Matt could have ever possibly hoped for, and embraced Patti as part of her own family since the very day they met. Though Margot has a body and soul for yoga, she also has a shrewd mind for business. She and Terry own and run Breathing Room Yoga, the incredible studio where she teaches. She's making a name for herself in Connecticut's business world, and people are taking notice. She also has a keen eye for design. Her individuality and personal sense of zen are palpable in the space which she and Terry have created. Her students use it as an escape from life's confusion, and as a place where they can connect to one another. It's a place that fosters a sense of community, and she is recognized as a pillar of her own community for creating it. Margot brightens everyone's lives that she touches, and she makes it her goal to touch as many lives as she possibly can.
Russ Brown - Groomsman
Russ and Matt met when they began their respective comedy careers in 2004. A native of Clio, MI, Russ is a veteran of the United States Marine Corps and has traveled the world, regaling audiences and colleagues alike with his gift of gab, both onstage in his stand-up career and offstage at his day job as an engineering wizard. A proud father of three children and two stepsons, Russ makes his home in Fenton, MI with his wife Delila.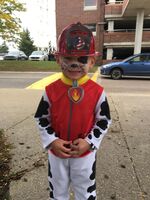 Wyatt Landau - Ring Bearer
Wyatt Landau is the four year old son of Officiant/Groomsman Dave Landau and his wife Tammy. He has his father's sense of humor and his mother's flowing blonde locks. As a fellow superhero fan and dog enthusiast, one of the couple's favorite parts of visiting Michigan is playing on the floor with Wyatt and his pups, Maddie and Bosley. Wyatt is always kind enough to share his extensive toy collection that even grown up fanboys would envy. Sweet, funny, and always up for an adventure, the couple has been honored to watch Wyatt grow from a smiley baby into the cool kid he is today, and can't wait to see what he will become.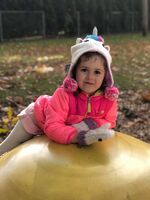 Laurel Jane Woolery - Flower Girl
Laurel Jane is Matt and Patti's niece. She is the daughter of Matt's sister Meghan and her husband Dan. Laurel Jane might only be four years old, but she is already a dynamo. Bright, kind, charming, and adorable, Laurel Jane could melt even the coldest heart. She is Mommy's little girl, the apple of her Daddy's eye, and one of the most popular students in her preschool. She shares Matt's sense of humor and Patti's adoration of Disney princesses, but as she grows, we can't wait to watch her share her God-given light with the entire world.